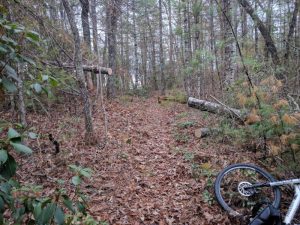 Hanging Dog Campground reopened May 2, 2016 for overnight camping in the Tusquitee Ranger District of Nantahala National Forest as part of a collaborative effort with Cherokee County. This includes the Ramsey Bluff Mountain Biking System with approximately 8 miles of trails.
The campground was closed to camping in 2014 due to rising operating costs and declining use and budgets.
"We had a significant decrease in the operating budget for recreational facilities and Hanging Dog wasn't getting as much use as other campgrounds, so we made the tough decision to close it," said District Ranger Angela Gee. "That's when Cherokee County officials stepped in with an offer of support."
Cherokee County worked with the Forest Service to get the campground ready to reopen and will help maintain the campground throughout the operating season. The 2016 operating season is a trial period in which visitor use will be monitored to help determine whether or not the campground will continue to remain open in future years.
​"We hope that people who loved camping at Hanging Dog will come back and the reopening will attract new campers," said Gee. "With the county's partnership and more user demand, we're optimistic that we can keep this campground open."
Hanging Dog Recreation Area also has a number of hiking and biking trails and day-use areas that have remained open. Visit www.fs.usda.gov/nfsnc for more information.