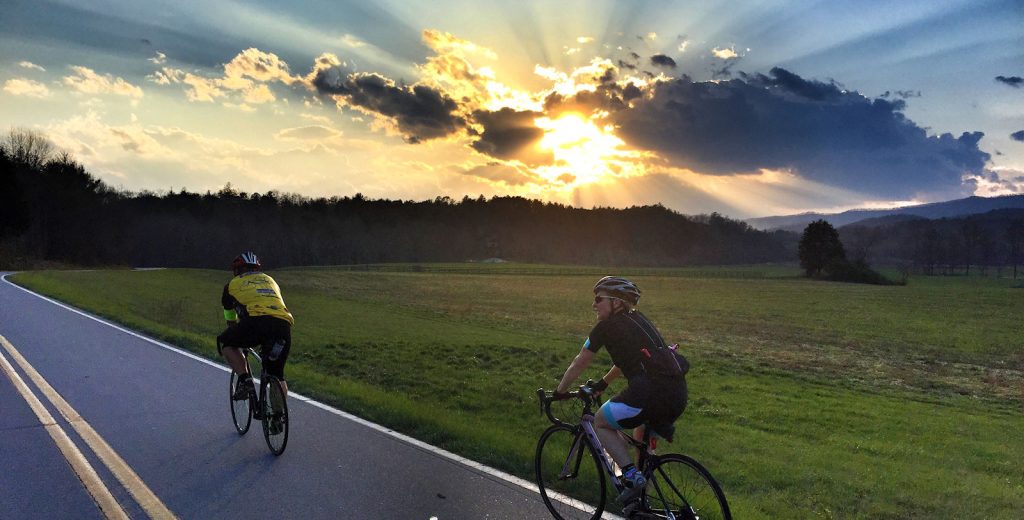 Bicycle Rides in Western North Carolina and North Georgia
We have put together several local road bicycle rides in Western North Carolina and North Georgia. Please keep in mind that these descriptions have been submitted by volunteers and mileage is approximate. We will post updated information and ride descriptions as they become available.
Details about weekly group rides can be found here.
We do have several route sheets for local rides in pdf format:
Crane Creek Vineyard Ride – Young Harris, GA – 15 or 30 miles
Crane Creek Vineyard Ride – Young Harris, GA – 50 Miles
Circle the Bald – Hiawassee, GA – 34.7 Miles. This is the route for SABA's annual Circle the Bald Ride. Ride the roads around the Brasstown Bald area and part of the same course that the world's best cyclists ride during Stage 5 of the Ford Tour de Georgia. Be prepared for a very steep climb near the end of Owl Creek Road and a screaming downhill after the entrance to Brasstown Bald on GA 180. The route does not climb Brasstown Bald, but passes the entrance to the park. As a side trip, ride up to the parking lot of Brasstown Bald if you dare and enjoy the "Hors Categorie" climb!
Folk School Loop – Brasstown, NC – 15 miles. This ride covers the race course for the annual "Two Hours from Anywhere Road Race." The course is rolling with 3 significant climbs. One on Martins Creek Rd after the gas station, one on Harshaw Rd leading up to the Cherokee Hills Golf course from the intersection of Martins Creek Rd. and the other climbs Poor House Mountain, locally known as "The Wall," also on Harshaw. Generally ridden clockwise, the route can be ridden in reverse and is equally challenging but with more gradual climbing
Freedom Ride – Hayesville, NC – 100 miles
Tusquittee Road – Hayesville, NC – 3 Routes, 20-30 miles ea.
Town Mountain/Myers Chapel Loop – Hayesville, NC – 20 miles
Upper Peachtree Loop – Peachtree Community, NC (near Murphy Medical Center) – 40 miles
Hanging Dog Loop – Murphy, NC – 25 miles. Approximately 25 mile loop, 2:15 hrs. to 2:30 hrs. advanced , 2:45 hrs. ride time for average riders. If you do this ride after the morning going to work or evening coming home there is very little traffic and for the most part are polite, thru the years have gotten accustomed to seeing cyclist.
 – Remember to wear a helmet! –
The user of this information assumes all risk for any injuries or difficulties that may result. Bicycling can be a dangerous activity regardless of what is presented on this website, users always engages in recreational activities at their own risk. Bicyclist using this website and related links and materials assume the responsibilities and risks for their own safety when bicycling on the suggested roads, routes, loops and trails. Standard North Carolina and Georgia laws for motorists also apply to bicyclist when using the public roadway.